I AM A.I.
---
---
Explaining Artificial Intelligence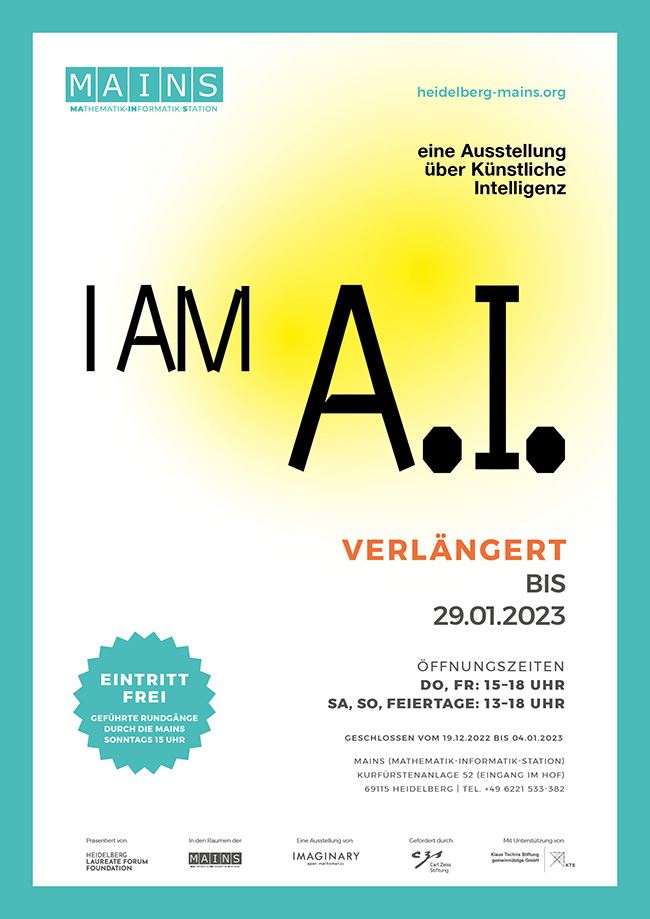 A.I. or Artificial Intelligence – a technology that increasingly finds its way into our everyday lives. On one hand, it can make life easier in certain areas and complement human abilities, but A.I. can also cross boundaries. "I AM A.I. – Artificial Intelligence Explained" addresses questions surrounding A.I. and the novel traveling exhibition opened to the public for the first time ever in the MAINS.
Can an A.I. solve problems without understanding them?
Does an A.I. learn from its mistakes?
Can an A.I. decipher and read handwriting?
Can an A.I. replace musicians in a band?
A wide array of interactive exhibits enable visitors to look at Artificial Intelligence from different angles and learn more about both its possibilities and limitations. Exciting experiments, videos and images show the mathematical methods behind the technology that vividly convey how A.I. works and where it is applied. "I AM A.I." is ideal for all curious people aged 10 and older.
On the I AM A.I. homepage, there is an interactive virtual tour plus a selection of exhibits to explore.
"I AM A.I." was developed and implemented by IMAGINARY with funding from the Carl Zeiss Foundation and support by the Klaus Tschira Stiftung.
Guided tours of the MAINS every Sunday at 2, 3 and 4 p.m. (in small groups). Registration is not required.
Further information

Venue:
MAINS (Mathematics Informatics Station)
Kurfürstenanlage 52
69115 Heidelberg
Phone: +49 6221 533-382
Dates:
January 29, 2022 to January 29, 2023 (closed December 19, 2022 to January 4, 2023)
Opening hours:
Thursday and Friday 3:00 p.m. to 6:00 p.m.
Saturday, Sunday and holidays 1:00 p.m. to 6:00 p.m.
Admission:
free, medical or FFP2 masks are mandatory
Guided tours of the MAINS:
Sundays at 2, 3 and 4 p.m. (in small groups)
Groups / School Classes:
Visiting the exhibition with a free guided tour through the MAINS outside of standard opening hours is possible by appointment. The maximum group size is limited to 35 individuals.
Send inquiries to: kontakt@heidelberg-mains.org
Language:
German
Host:
Heidelberg Laureate Forum Foundation